Modern Slavery Policy
MODERN SLAVERY AND HUMAN TRAFFICKING STATEMENT
 FINANCIAL YEAR ENDING 31 MARCH 2024
 INTRODUCTION
 This Modern Slavery and Human Trafficking Statement is made pursuant to Section 54 of the Modern Slavery Act 2015 ("the Act") relating to Transparency in Supply Chains.
Scottish Roads Partnership Project Limited (SRPP) recognises that it has a responsibility to take a robust approach to slavery and human trafficking and indeed takes a zero tolerance approach to non-compliance with the Act in any part of its business or its supply chain.
This is the first such statement SRPP has made pursuant to the Act and sets out the steps SRPP has taken to address the risk of slavery and human trafficking within its operations and supply chain.
ORGANISATIONAL STRUCTURE
SRPP is a Special Purpose Vehicle (SPV) formed to undertake the Design, Build, Finance and Operation including the management and maintenance of the M8 M73 M74 Motorway Improvements Project by a non-profit distributing public private partnership.
SRPP is wholly owned by the following Scot Roads Partnership Holdings Limited with the following shareholders (Holdco) as the structure below: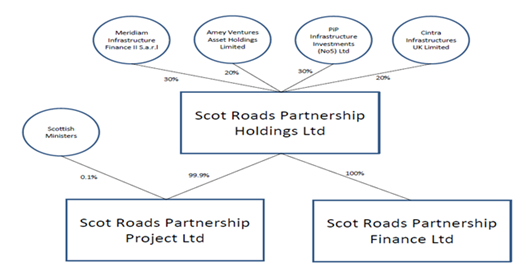 OUR BUSINESS
Our business is a specially created single Special Purpose Vehicle with staff seconded to the project by Cintra Infrastructure UK Limited and by Fulcrum Infrastructure Management who are owned by Meridiam Infrastructure.
SRPP is provided with support in respect of health and safety and the environment, legal, HR, procurement, property, IT and finance by seconded staff supported by the Holdco companies where required.
OUR SUPPLY CHAINS
 Our supply chains include:
Subcontractors and various service providers
We have one major sub-contractor as follows:
Amey LG undertaking Operations and Maintenance (O&M) services
Minor sub-contracts providing mail and travel services are placed with reputable companies taken from O&M sub-contractor lists.
Our sub-contractor has separate polices on Modern Slavery and Human Trafficking which are available for review separately.
At year end March 2020, we paid approximately £8m to our supply chain.
OUR POLICY ON MODERN SLAVERY AND HUMAN TRAFFICKING
 We remain committed to ensuring that there is no modern slavery or human trafficking in our supply chains or in any part of our business with a zero tolerance for non-compliance.
This statement reflects that commitment to acting ethically and with integrity in all our business relationships and to implementing and enforcing effective systems and controls to ensure slavery and human trafficking is not taking place anywhere in our supply chains.
SRPP operates under policies, which ensure that business is conducted to the highest standards governing Ethics, IT, Health Safety and Environment, Recruitment and Inclusion policies. SRPP has a grievance and whistle blowing process in place to cover any concerns within the business or the supply chain.
SRPP will assess any suppliers for compliance with the following criteria:
No forced labour or human trafficking is practiced, and employment is freely
Working conditions are safe and
Working hours are not
A fair wage is
No child labour is
No harsh, cruel or degrading practices are
No discrimination is
SUPPLIER ADHERENCE TO OUR VALUES
 Suppliers engaged by SRPP shall provide yearly statements to SRPP in respect of their compliance with both the Legislation and ethics related to Modern Slavery. SRPP monitors that all suppliers engaged on the Project have robust procedures to prevent Human Trafficking and Modern Slavery.
RECRUITMENT & TRAINING
 SRPP seconds five persons from the Shareholder companies. Upon joining, each employee shall receive an induction which covers the essential policies and information in relation to policies and procedures and matters such as whistle blowing.
FURTHER STEPS
Our measures to combat Modern Slavery are in constant review and the pro-active regime of training and internal and external audits to maintain compliance.
This statement is made pursuant to section 54(1) of the Modern Slavery Act 2015 and constitutes our slavery and human trafficking statement.
Signed:

_________________
Mark R Miller
General Manager