Radio Clyde Adopt A Gritter
19 December 2018
Radio Clyde Adopts An Amey Gritter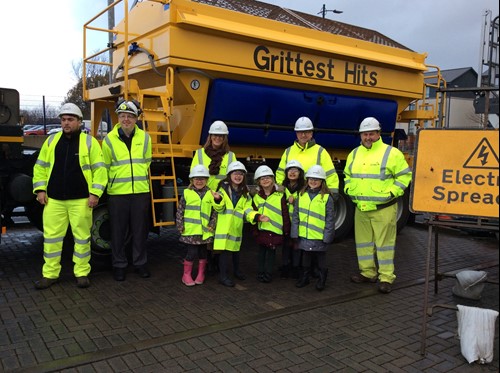 The Scottish Road Partnership and their contractor Amey took part in a joint launch
event of the online 'Gritter Tracker' with Transport Scotland and Scotland Transerv at their Polmadie Depot in Glasgow.
The event was supported by Radio Clyde, who have provided names for two gritters, based on their popular radio shows.
Scotland Transerv has adopted "Super Snowboard" (a take on the Super Scoreboard Football Phone-In Show). Amey's gritter is named "Grittest Hits" based on the Clyde 2 Breakfast Show.
The Gritter Tracker is a public-facing web page that allows anyone to see the position of gritters across the entire Scottish trunk road network. Gritters, which have been named by the respective Operating Companies, have the named gritters visible on the website. You can view the Tracker here: https://bit.ly/2fgIL9V;
In addition, to the Clyde gritter, Amey's M8DBFO contract has worked with Hillhead Primary School in Glasgow to name four other vehicles on their network.
A competition was held with the school and the winning names were:
David Plowie
Sophie Salt
SprinkeBell
Slippy McGritty 
The winners were invited to the launch event and had an opportunity to see their gritter up close and have their picture taken.
Graham Drummond, Operations Manager for Scottish Roads Partnership (SRP) said: SRP are delighted to support community involvement and would like to thank all the children  who took part. Congratulations to the children, who named the Amey gritters, they enjoyed their visit to the Depot. They were delighted to see their choice of names placed on the gritters which are currently out on patrol and can be tracked on the Transport Scotland website. This event also highlights the importance of being prepared for any adverse weather conditions during this winter period.